Art and Science Research Residency Program this Fall
This fall, BioClub will offer an art and science research residency program in cooperation with the Finnish Institute in Tokyo and BioArtSociety, an organization that connects the fields of art and science in Finland.
An evaluation conducted in March resulted in the selection of Helsinki-based Christina Stadlbauer and her work "Ceramic Scar Tissue - A Kin Tsugi Experiment." Her proposal brings together traditional Japanese craftsmanship and modern biotechnology with an artistic concept, and her work presents the potential to collaborate with traditional craft experts and to leverage the Bioclub network. The artist will conduct research for one month while based in FabCafeMTRL.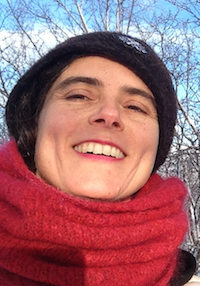 Christina Stadlbauer
An artist/researcher based in Helsinki. Christina obtained her PhD in chemistry and since 2008, she has mainly been examining honeybees and their environments along with plant sensing, communication, and ecology, focusing on the connection between art and science. She also runs a Kintsugi work group in Helsinki. She is interested in the complexity of processes and when she creates, she applies herself to the environment, whether that environment is physical or non-physical. She produces tangible objects, public outdoor facilities, temporary interventions and situations. Her works have been displayed in Europe and all around the world.
"Ceramic Scar Tissue - A Kin Tsugi Experiment"
A Kin Tsugi Experiment to Grow Instead of Glue Broken Ceramics
Kintsugi is a traditional Japanese craft technique in which broken ceramics are bonded back together with urushi, a plant-based lacquer paint, and finished with gold or silver. In contrast to other forms of repair that try to hide traces of damage, this approach accentuates the cracks and flaws and redefines them as beauty. This technique developed in the late 16th century and originated from the concept of wabi-sabi, a world view based on the acceptance of natural processes and imperfection. The beauty of not being perfect or permanent can be considered a type of aesthetic. 
In "Ceramic Scar Tissue - A Kin Tsugi Experiment," the concept of healing is examined by understanding living organisms as the glue that repairs the damage done to a living system. The research focuses on what kinds of biomaterial, such as biomes, bacteria, and fungi are appropriate and examines the conditions necessary for the growth of this "living glue" by drawing comparisons to the surface of broken ceramic. 
The activities of the artist will be shared through events such as talks and workshops and announced through the official website blog. 
---
The Bioartsociety
Established at Kilpisjärvi Biological Station in Lapland in May 2008. Focusing on biology, ecology, and life science, this organization plans and supports activities related to art and natural science. The organization also runs the art and science research program under the Helsinki University Kilpisjärvi Biological Station and the subarctic environment of Lapland. https://bioartsociety.fi/ 
Finnish Institute in Japan
Based in Tokyo, this institute supports the development of cultural exchange between Finland and Japan. The institute also holds residency programs for Finnish and Japanese artists and operates locally-based art programs and projects. http://www.finstitute.jp/