​Christina Stadlbauer selected for the Tokyo Art & Science Research Residency
On March 1st closed open call for the Tokyo Art & Science Research Residency which will be hosted by BioClub Tokyo in partnership with the Finnish Institute in Japan. The selection commitee consisted of members of the BioClub Tokyo, the Finnish Institute in Japan and Bioartsociety.

We selected Helsinki based artist Christina Stadlbauer with her research proposal "Ceramic Scar Tissue - A Kin Tsugi Experiment" .Her proposal is poetically combining traditional Japanese technology and modern biotechnology with an artistic concept and we plan to utilize local experts and a network with collaboration partners in Tokyo.
She will based in FabCafe MTRL that is creative co working space in tokyo.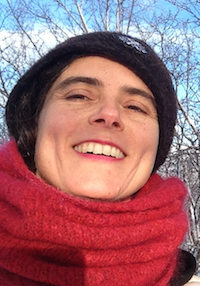 Christina Stadlbauer
Christina is an artist and researcher based in Helsinki. Christina has a doctorate in chemistry and has been doing activities focusing on art and science since 2008, centering on honey and its environment, plant sensing, communication, ecology and so on. In addition, we operate a work group of gold succession in Helsinki. She is interested in the complexity of the process and creates herself in the environment, regardless of its physical or non-physical environment. She is producing tangible things, outdoor public facilities, temporary interventions and situations. Her work has been published in Europe and around the world.
Ceramic Scar Tissue -A Kin Tsugi Experiment to Grow Instead of Glue Broken Ceramics -
Kintsugi is a traditional Japanese craft technique that repairs broken pottery using lacquer which is plant-derived lacquer paint, repairs with painting gold or silver.In contrast to other repair approaches of restoration trying to conceal traces of damage, object cracks or defects are aesthetically emphasized and sublimated into decoration. This technology is derived from the world view of 'wabi-sabi' which assumes acceptance of processes and imperfections in the second half of the 16th century. Aesthetic beauty is one of the "incomplete, permanent" beauty. "Ceramic Scar Tissue - A Kin Tsugi Experiment" thinks of life forms as "glue", has the idea of improving damage to "living" systems, and wants to introduce the concept of "healing" . This research focuses on what biomaterials such as biomes, bacteria, fungi are appropriate, research on what growth conditions are needed for "live adhesive" on broken ceramic surfaces To do.
The artist will make research and works based on BioClub for one month. The research process and the results of the artist's research are planned. Activities after the artist's visit to Japan will be posted on the official website blog.
---
POSTED BY Chiaki Ishizuka