WET - WARE / FAB - FABRIC The First "Wearing Life" What is a Semi-Life Material? Event Report
WET - WARE - / FAB - FABRIC #01 "What is Semi-Live material?"
Fashion that pushes the borders of anthropocentrism - the production and aesthetics of the emerging biotechnology era
Text by Kazuya Kawasaki
Design researcher Kazuya Kawasaki and Bio Club director Chiaki Ishizuka organized the WET - WARE - / FAB - FABRIC working group to study and practice innovation at the intersection of biotechnology and fashion. The commemorative first meeting was an effort to rethink the concept of conventional "anthropocentric" clothing design. Until now, "Biological Tailor-Made" works were created through the concept of bio-fashion design. In an attempt to clarify "the connection between clothes, nature, and non-humans" of which fashion has not been adequately aware, fashion was viewed from a bio perspective and clothes have been created by working with bacteria. The adjacent plenary session engaged critically with these issues.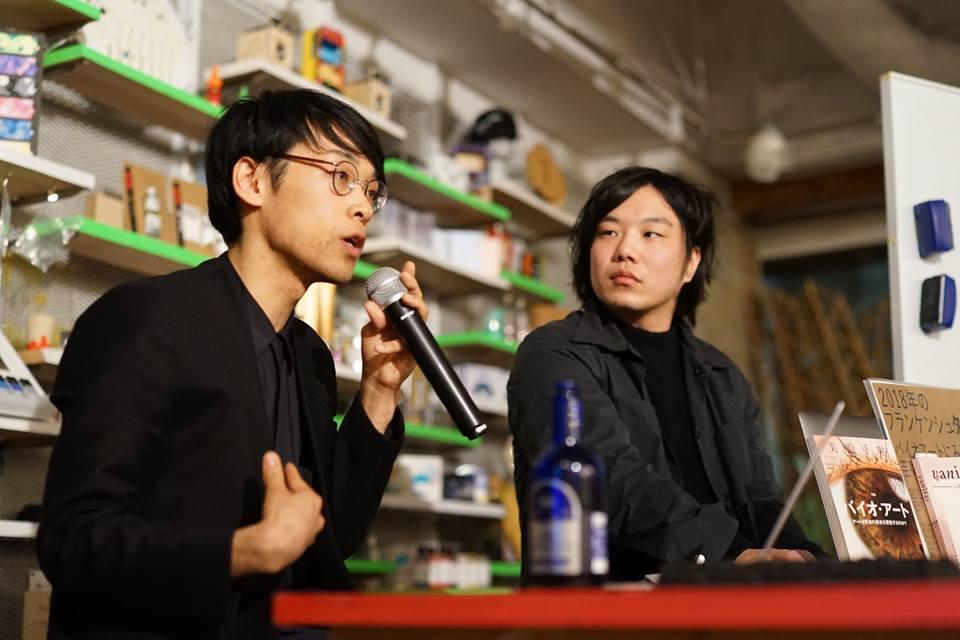 For this meeting we invited Mr. Yohsuke Takahashi, assistant curator at the 21st Century Museum of Contemporary Art, Kanazawa, who has planned several bio-art-related exhibitions and contributed the provocative discourse "Problems with Semi-Live Materials in Bio Fashion" to critical fashion publication "Vanitas." Mr. Takahashi's opening presentation provided an introductory explanation with diverse examples of rapidly developing "bio-materials" in the fashion design field premised on artist and researcher Oron Catts' concept of "Semi-Life." refers to entities that blur the boundaries between nature and art, life and non-life, but with bio-hacking, made possible by developments in synthetic biology and gene editing technology including CRISPR-Cas9, artists and designers can work on biological experiments and inventions that have the potential to shake up the ontological definition of humanity and fundamentally change the concept of the clothing we wear on our bodies.
According to Mr. Takahashi's "bio-couture of derivation/generation" framework, the former "derivation" is akin to pret-a-porter -- in other words, a set of practices with an affinity for conventional mass production and consumption. To put it simply, these characteristics can lead to a "new bio-fashion creation -- proposal for production methods and functionality." For example, Spiber Co. Ltd. based in Tsuruoka, Yamagata created "QMONOS", a silk yarn from a protein source called "fibroins," and they are currently working with GOLDWIN to manufacture a bio-material-based mountain parka. They emphasize that it is possible to create designs with functions that are based on bio-mimicry, which has been used for a long time in the field of engineering, such as imitating spiderwebs to create "durable" yarn. Bio-fashion can be understood as new functionality from the perspective of strengthening "corporeal protection," the most primitive function of clothing. It is also "sustainable." There is currently a great need for sustainable fashion, as the fashion industry does the second greatest damage to the natural environment out of any industry with regard to rapid climate change and global resource exhaustion. The frequently discussed "anthropocene" provides further theoretical basis to reinforce the need for ecological fashion. 
On the other hand, the "generation" characteristic involves "new aesthetics of bio-fashion -- meaning, significance, and addressing beauty," making it more comparable to haute couture. Tina Gorjanc's conceptual collection "Pure Human," which uses stem cell cultures from Alexander McQueen's DNA to create human leather, is an interesting example that evokes Mr. Takahashi's "grotesque character transformation" as well as Freud's "uncanny." Gorjanc's personal fetishism is exposed in the pretense of her work, in which she goes beyond the form of an ordinary pig leather. She incorporates the attachment or longing for an object into the genes of the material. The warped motivation for this work can be considered as a sort of "desire" also reflected in bio-fashion.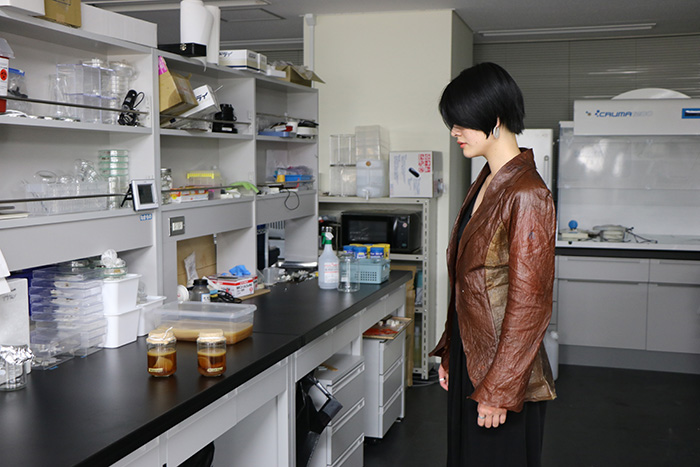 <Kazuya Kawasaki, Biological Tailor-Made, 2017>
The bio-coutures of derivation/generation co-evolve in terms of both production and aesthetics to drive various bio-fashion practices, but one must consider the perspective of a biocouture that can deconstruct them both. Taking a simple view of broad developments in the history of fashion, namely the rise of fast fashion following the switch from haute couture to pret-a-porter, the future of fashion does not seem very bright. Bio-fashion that mashes up the derivation/generation binaries of production and aesthetics, pret-a-porter and haute couture, mass production and custom clothing into "mass customization" -- this could be called the "bio-couture of editing." What if genome editing technology could be used in something like NIKE iD's parametric customization system to create an autonomous and decentralized environment that can be edited by average users?
Finally, how does "desire" fit into bio-fashion? Who exactly is bio-fashion for? Primitive desires inherent in fashion, including the recent trend of celebrity personal training diets or the "modern primitive" phenomenon of the millennial generation that favors body modifications such as tattoos, piercings, body suspensions -- the desire "to transform your image through the shape of your body" could be intimately linked to bio-fashion. Angels and devils in religious paintings, fantastical beasts depicted by Borges, body modifications in ethnic rituals -- these are desires for metamorphoses as described in architectural historian and critic Bernard Rudofsky's "The Unfashionable Human Body" and "Are Clothes Modern?" The rapid development of biotechnology paradoxically drives a revival of the pre-modern human "desire for transformation." Is it possible to imagine a future in which fashion transcend the limitations of anthropocentrism?
<Event Summary>
WET / WEAR - FAB / FABRIC: Conversations, 1st "Wearing Life" What is a Semi-Life Material? -- Crises and Innovations that Combine Biotechnology and Art -- Yohsuke Takahashi (curator at the 21st Century Museum of Contemporary Art, Kanazawa) + Kazuya Kawasaki
Date and time: 11/24 (Sat) 18:00 - 20:00 (17:30 open)
Location: FabCafe MTRL (Dogenzaka Pia Building 2F, 1-22-7 Dogenzaka, Shibuya, Tokyo)
Cost: 1,500 yen
http://bioclub.org/event/wet-w...